A TAXONOMY OF ACTION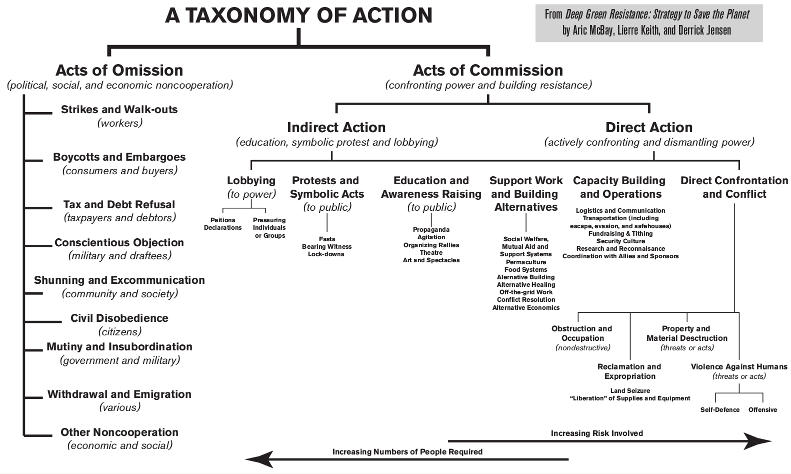 We've all seen biological taxonomies, which categorize living organisms by kingdom and phylum down to genus and species. Though there are tens of millions of living species of vastly different shapes, sizes, and habitats, we can use a taxonomy to quickly zero in on a tiny group.
When we seek effective strategies and tactics, we have to sort through millions of past and potential actions, most of which are either historical failures or dead ends. We can save ourselves a lot of time and a lot of anguish with a quick and dirty resistance taxonomy. By looking over whole branches of action at once we can quickly judge which tactics are actually appropriate and effective for saving the planet (and for many specific kinds of social and ecological justice activism). A taxonomy of action can also suggest tactics we might otherwise overlook.
Broadly speaking, we can divide all of our tactics and projects either into acts of omission or acts of commission. Of course, sometimes these categories overlap. A protest can be a means to lobby a government, a way of raising public awareness, a targeted tactic of economic disruption, or all three, depending on the intent and organization. And sometimes one tactic can support another; an act of omission like a labor strike is much more likely to be effective when combined with propagandizing and protest.
In a moment we'll do a quick tour of our taxonomic options for resistance. But first, a warning. Learning the lessons of history will offer us many gifts, but these gifts aren't free. They come with a burden. Yes, the stories of those who fight back are full of courage, brilliance, and drama. And yes, we can find insight and inspiration in both their triumphs and their tragedies. But the burden of history is this: there is no easy way out.
In Star Trek, every problem can be solved in the final scene by reversing the polarity of the deflector array. But that isn't reality, and that isn't our future. Every resistance victory has been won by blood and tears, with anguish and sacrifice. Our burden is the knowledge that there are only so many ways to resist, that these ways have already been invented, and they all involve profound and dangerous struggle. When resisters win, it is because they fight harder than they thought possible.
And this is the second part of our burden. Once we learn the stories of those who fight back—once we really learn them, once we cry over them, once we inscribe them in our hearts, once we carry them in our bodies like a war veteran carries aching shrapnel—we have no choice but to fight back ourselves. Only by doing that can we hope to live up to their example. People have fought back under the most adverse and awful conditions imaginable; those people are our kin in the struggle for justice and for a livable future. And we find those people—our courageous kin—not just in history, but now. We find them among not just humans, but all those who fight back.
We must fight back because if we don't we will die. This is certainly true in the physical sense, but it is also true on another level. Once you really know the self-sacrifice and tirelessness and bravery that our kin have shown in the darkest times, you must either act or die as a person. We must fight back not only to win, but to show that we are both alive and worthy of that life.